I had the privilege of testing the California Dress from Everything Your Mama Made (EYMM)*.

The elastic at the waist gives it a tailored look, and the dress is nice enough for dressing up, but the knit makes it a perfectly comfortable play dress as well. The fabric I used was a medium weight jersey knit from Girl Charlee*. They have such fun and unique prints, and my girls are in love with the little deer on this one!




I sewed up size 5. Both my girls fit this size, although one is a few inches taller than the other.

This is a very versatile pattern, and comes in maxi, high-lo, knee length, and peplum verions. It has the added bonus of having no front and back to encourage independent dressing!

One side of the dress is a classic scoop neck.



The other is a halter style neckline.



Which side do you like best?

Besides purchasing directly from EYMM, it is also part of an exciting bundle at at Pattern Revolution.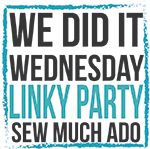 * affiliate link. If you set up a new account/purchase through this link I get a small credit towards some more patterns and fabric 🙂