Welcome back to Embellish is for BOYS! Today we are happy to have Stacy from The Land of K.A. guest post for us. I love reading about her work; she has an incredible sense of style and is also a talented photographer. She sews for older children, which I hope inspires you to keep sewing for your children as they grow! 





Don't forget to enter the raffle for a prize pack of 3 patterns from our pattern sponsor for this week, Peekaboo Pattern Shop. 

Scroll to the end of this post to enter the linky party (any sewing done for a boy is eligible) to be entered to win our prize pack from L'Oiseau Fabrics!

a Rafflecopter giveaway
_______________________________


Hi there, Gracious Threads readers! I am Stacy and I blog over at The Land of K.A. (K & A are the first letters of my kids names). I have a 10 year old boy and 9 year old girl, and I love to sew them lots of clothes! It gets harder as they get older to make things for them, as they tend to get a bit opinionated. It is still possible, though!
My newest love for embellishing shirts is definitely heat transfer vinyl! This is a great way to fancy up some plain t-shirts for your boys. You just need some heat transfer vinyl, and exacto knife or Silhouette machine and an iron.
Now, I generally cut these out with my Silhouette machine, but you can do it with an exacto knife, too. It just takes longer and it is harder to do the more intricate designs. The Silhouette store has a ton of designs for pretty much any use. I can draw, but it just takes more time than when I can purchase a ready-made design for $0.99.
First you have to source the vinyl, and you have a few options. Michael's craft stores sell vinyl for the Cricut and for the Silhouette. They don't have a lot of colors, though. I haven't looked at Joann's or Hancocks, but I imagine they would have some, as well. I have bought both brands and they both work.
If you want more colors and variety, there are several sellers online. I bought a bunch from Expressions Vinyl, and have been happy with the color selection and quality. The one I used for this shirt was Grey Stripflock Heat Transfer Vinyl. It is a flocked iron-on vinyl. It took a bit more time to get it to adhere to the shirt, but otherwise was pretty easy to put on the shirt.
I had him choose a design, which is usually a good idea when dealing with tweens. You never know what they will suddenly dislike! I was doing an outfit in a gray/blacked toned digital camo, so he chose an Army design.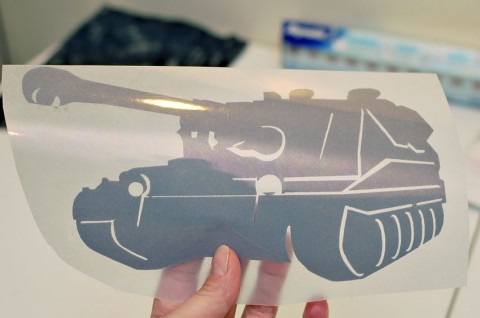 There are a lot of tutorials online in how to cut with a Silhouette machine, so I won't go into that here. Just know that I find my machine to be quite useful and fun for embellishing my kids clothes. It is nice to be able to quickly cut out detailed designs
.
Here is his shirt, which is from Ottobre 3/2010. The outfit is #35 and #36.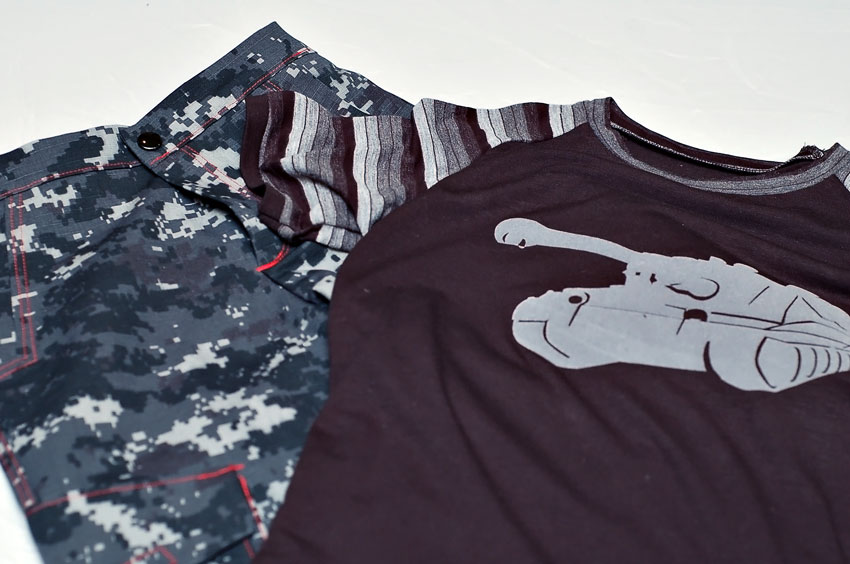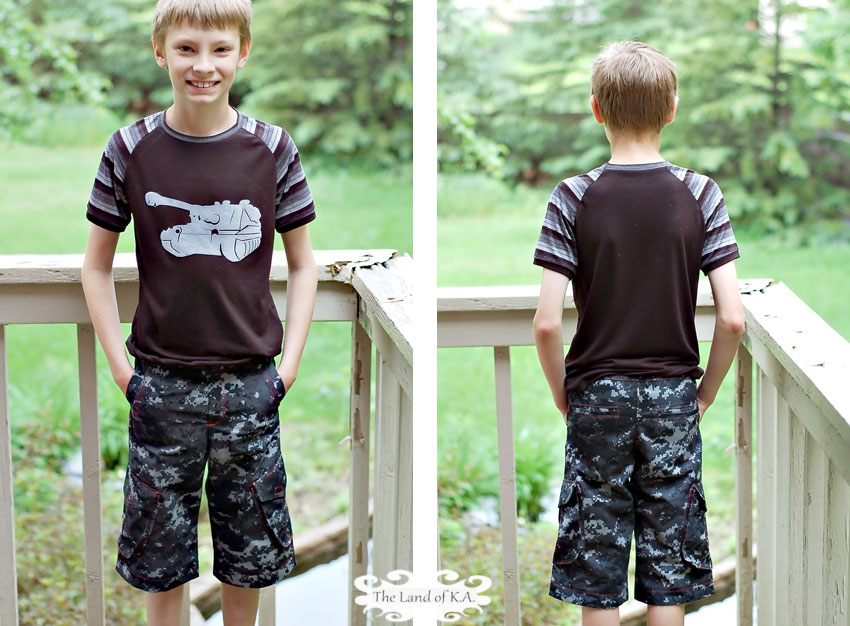 I tend to make my kids matchy-matchy outfits. I think he was pretty happy with this outfit!
Thanks for having me, and hope you enjoyed my tween boy make. 🙂