Freezer paper stenciling is a simple technique with no limits to what you can put on a garment.

Following the tutorial is a linky party. One luck sewalong participant will win 1 metre of exclusive Bike Boy fabric from Duncan and Kate.

Also, be sure to enter the rafflecopter below yesterday's post for a chance to win Terra's Streamline Tee pattern.


step 1: Design it
Draw an image or find one and print it out.

Remember, your image is going to be reversed on your garment

Try to find a simple image; a silhouette without any inside details is easiest
step 2: Trace it
Trace on the matte side of freezer paper.

Freezer paper is also know as butcher paper and is shiny on one side and matte on the other. It can be found in most grocery stores.
step 3: Cut it
Remember, you are making a stencil, so you are cutting away the part that you want to paint.

Use small embroidery scissors or an craft knife for small details.
step 4: Stick it
Using a warm (not hot) iron, iron the shiny side of your freezer to your fabric piece.



I painted on the stripes using strips of freezer paper, then let it dry and ironed on the seahorse stencil.










step 5: Paint it
Apply fabric paint in a thin layer.

Let dry to the touch and repeat for a second coat.

I used Tulip brand fabric paint, which is available inexpensively at many craft stores.
step 6: Seal it
After it has dried for 24 hours, remove the freezer paper.

Heat seal your image by ironing on the back of the fabric with a hot iron or by placing your fabric in a hot dryer.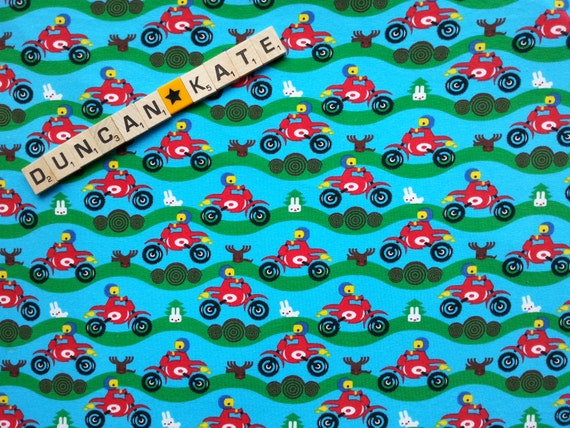 Have you tried freezer paper stenciling? If you just learned today, or have done it before, link up your finished project for a chance to win some amazing fabric from Duncan and Kate.